Pumpernickel
Traditional rye loaf with our own twist
Our take on the traditional pumpernickel is anything but ordinary. A unique combination of spices compliment substantial amounts of spicy cracked rye and honey to yield serious flavor and a delicate but hearty bread that will keep you coming back for more.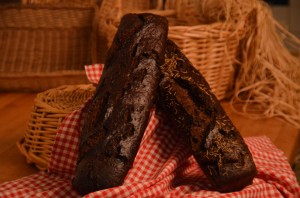 – High in Fiber
                 – Contains Whole Grain Cracked Rye
                 – Good Source of Vitamins, Minerals and Antioxidants
Loaded with whole grain rye, our pumpernickel is the ideal cocktail bread. Caraway and a combination of herbs and spices accentuate the sweetness of honey and the characteristic rye flavor of the style, and the long, narrow loaves provide slices small enough to enjoy as a snack, yet dense and flavorful for memorable eating. Top our pumpernickel with your spread of choice, be it hummus, cream cheese or something spicy like giardiniera and stack on your favorite meats, cheeses and veggies for a great appetizer or lunch treat.